No matter what size your business is or what industry you operate in, technology no doubt plays a major role in daily operations. As a result, the functionality and reliability of your IT systems, software, hardware, and solutions has become more important than ever. Whether a server issue, network failure, or cybersecurity breach, IT issues can have potentially catastrophic consequences on your business's success. For many businesses, the process of preventing, managing, and repairing IT issues is unnecessarily complicated. Juggling multiple vendors, system maintenance, and break/fix IT situations can be costly and time consuming.
Luckily, IT support companies in Houston like IS&T offer fully integrated and comprehensive managed IT services and support, allowing you and your employees to focus on doing what you do best – managing and running your business. All while saving time and money.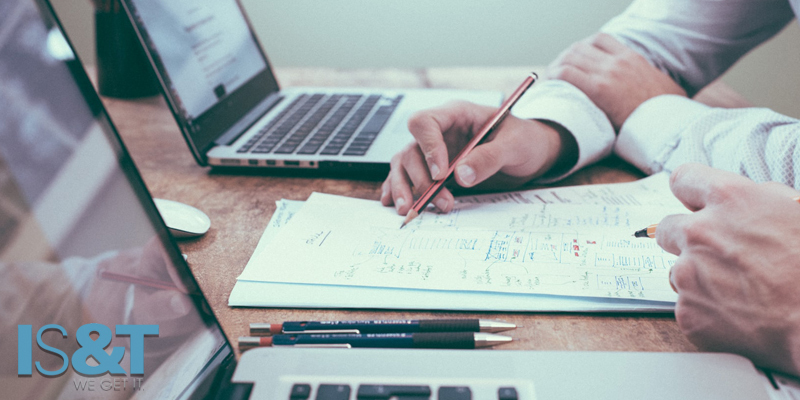 Fully Managed IT Through IS&T
For over 20 years, IS&T has been dedicated to providing IT support to companies throughout Houston and beyond. We know that modern businesses are constantly evolving, as is the technology that powers them. That can make managing IT products, services, and solutions not only costly but also difficult to keep up with. That's why we aim to provide a fully managed approach to IT – to make it easier for businesses to get the best possible IT support and services without the hassle and confusion. With our fully integrated, customer-focused, and technologically advanced managed services and support, clients can expect to experience an array of benefits, including:
Optimized and improved tasks and daily operations
Proactive remote monitoring and management
24/7/365 coverage
Automated maintenance and system updates
Streamlined functionality and communication
Expert technical support and problem resolution for IT systems
With IS&T's fully managed approach to IT support, companies in Houston and beyond can focus on meeting business goals and long-term objectives with confidence that technology is working with, not against, them. We offer expert-level service and support for one monthly fee, giving our clients unparalleled peace of mind regarding their IT systems.
We take a one-on-one approach to each client, creating an IT management plan that works for each business's unique needs. Whether you're a small business just starting out or a medium to large business looking to level up your IT systems, we can create an IT support plan that will enhance your business productivity and scale with wherever your success may take you.
Services Offered Through IS&T
Staying educated and on top of the latest technology is key to providing the best possible IT support to companies in Houston and surrounding areas. Our team has over 20 years of experience learning, growing, and evolving within the IT industry, expanding our areas of expertise to include services such as:
Exchange/active directory/SharePoint solutions
Backup & disaster recovery solutions (BDR, Cloud, peace-of-mind)
Cloud services – Virtual servers, private servers, hosted systems (ERP, CRM, Accounting)
Website design, mobile and graphic development
Logo, brochure, marketing material, creative design
Mobile application development (Android, Windows, iOS)
Software and business app development
No matter what your business needs, IS&T can provide fully managed IT support and solutions. As a "one stop shop", we aim to streamline IT for businesses of all sizes and across all industries by being a long-term partner in IT.
IS&T – Houston's Best in IT Support
When it comes to looking for the best IT support companies in Houston, we know you have options. That's why we let our reputation and experience speak for itself. For over 20 years, IS&T has been a go-to provider of IT support for companies large and small throughout Houston and beyond. With a wide range of experience, an extensive list of service offerings, and a proven track record of success, we know that we can streamline IT management for our clients and ensure success as it pertains to IT systems and solutions.
Contact us today to learn more about our IT support and services and see how IS&T can make the difference for your business.