Keeping an eye on your servers and your network, so you can focus on what really matters - RUNNING YOUR BUSINESS!

When it comes to monitoring your server and network, you need a solution that can free up some of your resources so you can focus on your business. This is where remote server and network monitoring services can be handy. That said, consider reliable remote server management solutions that can proactively oversee your networks and server 24/7. Moreover, make sure that the remote server monitoring solution is backed by dependable and highly trained NOC technicians and engineers who can resolve any issue and address any alert any time.

Remote server and network monitoring services will have a team of experts looking into your systems around the clock, even on weekends and holidays. This way, you can count on remote server monitoring services that will ensure uptime and optimum performance at all times. 

Our RMM (Remote Monitoring and Management) solution offers proactive problem resolution backed by our 600+ NOC engineers and technicians to resolve all of your business servers alerts 24x7x365!

Our team of experts will keep a watchful eye on your systems 24 hours a day, 7 days per week, NO DAYS OFF with Network Monitoring services that ensure your IT will always be performing at its peak.

With our RMM platform, you can monitor:
Windows
Linux servers
Mac desktops
SNMP & ICMP devices like printers and firewalls
Mobile devices including Android & iOS
VMware hosts
Hyper-V servers
IS&T
can monitor your server from a remote location. Our remote team will ensure the health of your server and systems, log events, and monitor the performance of your server. If you have your own in-house team of engineers, we can notify them in case of a critical issue on your server or networks. Through remote management of your server, we can monitor data or tape backup logs and applications to determine any potential issues. Feel free to contact us for remote management of servers and networks anytime.

Our 24/7 Network Monitoring services for servers and network devices include these and more valuable features:
Monitoring the health of your systems 24x7x365
Event log monitoring
Engineer notification in the event of a system critical network issue
Performance monitoring. Thresholds setup to identify low disk space, high CPU utilization, and other events indicative of a performance issue
Monitoring of data/tape backup logs
Application monitoring to identify potential application issues even if the server is up and running
Asset Management – full hardware and software inventories
Software updates including Microsoft Patches, Critical Updates and antivirus software
Malware Protection
Antivirus Protection
Proactive antivirus software management supporting 15+ vendors
Microsoft, Apple, and third-party patching
Client Communicator system
Client-facing summary reports
Internal audit reports
Off-hours maintenance
Month-End reports detailing up-time, security patching, and performance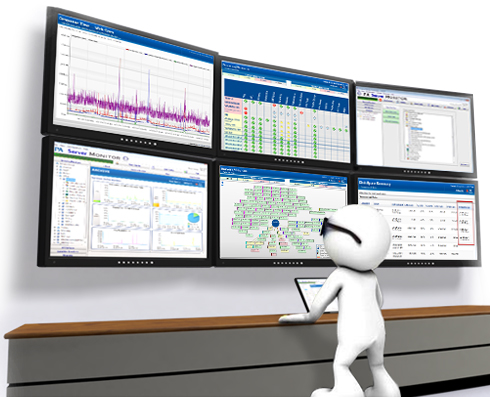 High network availability and stability are fundamental components of IT for most businesses. IS&T's Network Operations Center (NOC) provides 24x7 Monitoring to proactively supervise the availability and performance of all devices in your network.
 Located in the United States in a SAS 70 Type II compliant data center facility with redundant power and Internet capabilities and staffed full time with certified engineers, our NOC team is committed to providing organizations with the least downtime possible. Our early detection process involves Alert Monitoring, Validation, Filtering, Escalation and Resolution so that your organization is ready for all critical support needs. 
Ensuring everything is up to date on your servers/devices can be an overwhelming task. Luckily, we turn "easier said than done" into just plain easy. With hundreds of scripts that we can schedule, with automated patching, and integrated ticketing,
we've got you covered
.
We also help you ensure your systems are set up consistently and reliably, and that your antivirus definitions are up to date and your applications are current.  
A well-designed network connects people to people, people to machines; and machines to machines. But if your network falters, none of that can happen. So when it comes to monitoring and maintaining your network, IS&T has the tools and solutions to do this for businesses of all sizes at the right price.

The result? We make your life easier every day, helping you sleep better at night knowing you're in good hands.