Finding top Information Technology talent in the largest city in Texas can be a challenge. IS&T has been staffing IT positions in the Houston market since 1997.

We are Houston's Best Staffing Solution!
We have an extensive network and the uncanny ability to locate passive talent. Our staffing solutions help you secure and optimize the most strategic and variable component to success your people.
We understand IT doesn't work in a vacuum, it's there to support business operations and give a competitive advantage. We begin our partnership with every client by focusing and concentrating on being able to fully understand your business targets and the gaps between your current and future state. We then build a workforce staffing strategy to close those gaps with the right people, skills, and competencies, when and where you need them.
Contact us today
IS&T – The Best IT Staffing Agency in Houston

Houston is the fourth-largest city in the United States and the largest in the state of Texas. It is an epicenter of business and commerce with twenty–four Fortune 500 companies headquartered in the city and surrounding areas. In addition to ranking third among US metro areas with Fortune 500 companies, Houston is home to over 100,000 small businesses. With that in mind, it's no surprise that finding top Information Technology talent can be a challenge this is where IS&T shines in that task above all other IT staffing companies in Houston. In addition to Houston being an extremely competitive business landscape to recruit in, the process of finding the right fit for your business can be time-consuming and expensive no matter where you're located. That's why so many companies turn to IT staffing agencies in Houston to help find the ideal candidate.

IS&T has been staffing IT positions in and around the Houston market since 1997. Our nearly 25 years of experience of providing IT staffing services to companies both large and small has helped us cultivate an extensive network from which to source great talent as well as the uncanny ability to locate next-level passive talent. Our IT staffing solutions help you secure and optimize the most strategic and variable component to success — your people.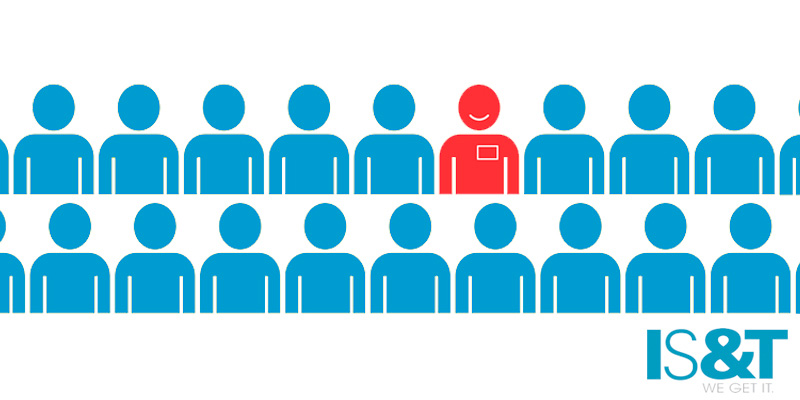 What to Expect From IT Staffing Firms
Working with an IT staffing agency is a different, higher-quality, and more personalized approach to filling open business positions than other common methods like in-house hiring and online recruitment. Rather than putting business owners and HR personnel on the front lines of hiring, making them responsible for things like posting jobs online, scanning countless online applications, and interviewing candidates with little to no prior vetting, working with an IT staffing company streamlines the process.

When partnering with an IT staffing firm, experts with specialized experience in filling IT positions use their professional connections, knowledge of the industry, and pool of qualified candidates to find the right person for each position. Acting as the middleman and as consultants between available talent and the companies who need them, staffing professionals weed out unqualified candidates, those who would not be a fit with the company culture, and those who aren't aligned with the business's mission. This leaves only the best of the best for your organization to meet with. In some cases, staffing companies can also negotiate salaries, contracts, and other time-consuming details from the hiring process.

Because staffing is what these companies do every day, they're able to more quickly and easily find the right employees. When you partner with the right IT staffing company, you have a greater chance of finding a quality candidate without spending hours searching through resumes and interviewing candidates that are not a match.

How We Approach IT Staffing in Houston, TX
When it comes to staffing, your challenge is our specialty. At IS&T, we excel at taking on the challenge of matching highly qualified job seekers to fit the unique needs of employers. We have a proven track record of successfully pairing talent with companies throughout a variety of Houston's top industries.

How do we do it? For starters, we understand that IT doesn't work in a vacuum. IT is there to support essential business operations and give companies a competitive advantage. In order to supply your business with the right IT professionals, we have to first know how exactly that team member must fit into your organization's culture and operations. So that's why we begin our partnership consulting with every client by focusing and concentrating on fully understanding your business landscape. We assess your short- and long-term targets and help identify the gaps between where you are now and where you'd like to be. We then build a workforce staffing strategy aimed at closing those gaps with the right people who have the skills, experience, and competencies when and where you need them.
Houston-Based IT Staffing
IS&T is Houston owned and operated, with every member of our team deeply invested in helping fellow Houston businesses find the best quality employees. Having operated in the greater Houston area and beyond for over twenty years, we understand the landscape of Houston business – from the types of IT staffing positions that are most common in Houston to the various kinds of industries that are often competing for the same Houston candidates. Our staffing team has experience with, but not limited to, the following top local industries:

• Energy Services
• Banking
• National Law Firms
• International Investments
• Global Software
• Retail Energy
• Insurance
• PMO
• Infrastructure
• Logistics

Our wide range of experience with Houston businesses paired with our deep ties to our local community allows us to offer premier staffing solutions for any and all needs.
Types of IT Staffing Recruiter Services Offered
Whether you need to fill a temporary position or are looking for your next CIO, IS&T's staffing team can help you find the ideal candidate. From level one technicians to executives, a new developer, engineer, programmer, or even a new sales or marketing expert, our connections to the Houston IT community can ensure you find an employee who not only fits your current needs but also will help you reach your long-term goals. Our staffing services include the following:

• Contract
• Temporary
• Contract-to-Hire
• Project Staff Augmentation
• Staff Outsourcing
• Contingency Search
• Retained Search


IT Staffing Made Easy
As a business owner, you've likely dealt with the complexities and frustrations of the recruitment process before. From sifting through piles of resumes to calling business contacts for referrals, why spend so much of your time spent recruiting IT talent when you can have an experienced IT staffing firm near you handle it? When you choose to work with IS&T staffing, you will not only gain an unparalleled network of contacts and talent to fill your needs, but you'll also get back valuable time that was previously spent searching for the right employees. With the experience of experts like IS&T on your side, you can trust that quality, experienced talent will be headed your way while your time is spent doing what you do best – running your business.
Quality IT Recruiters in Houston
Experience and connections mean nothing without results. That's why IS&T staffing is dedicated not to just filling positions but to helping your team grow with valuable talent. We see ourselves as an extension of your business and make it our mission to find candidates that will add to your business's performance and help you achieve your overall mission. We want every single placement to be just what you're looking for so that the next time you need quality talent you know exactly where to turn. We are interested in cultivating long-term business relationships with clients, and we do so by providing excellent service and making sure each placement is the right fit before moving on to the next. With IS&T staffing services, there's nothing to lose.
IS&T – Top IT Staffing in Houston, TX
By shifting the responsibility of finding top IT professionals for your business to the expert staffing team at IS&T, instead of your human resources department, you'll experience an entirely new way of growing your organization. At IS&T, we're not in the business of just filling open positions, we're in the business of building up your company where it counts the most – your team. By working with us, you'll gain quality candidates all while saving time and money compared to seeking hires on your own.

Your staffing needs are our top priority – let us prove our reputation as a premier IT staffing company is well earned. Contact us today to grow your management team or just find someone to help you with administration or finance with the best IT talent available see why we're the top IT staffing firm in Houston, TX.