Mobile App Development Company In Houston
When you need a reliable mobile app developer in Houston, turn to an experienced mobile app development company like IS&T. We provide custom end-to-end mobile application development solutions for small and large businesses in Houston. Through our own dedicated and talented team of app developers, we hope to deliver a cost-effective and reliable mobile application that will make sense to your business, whether you need a mobile app for iOS or Android devices.
As a mobile app development company, we have all the experts you will need when it comes to bespoke Android mobile application development. Apart from providing you with a developer, we will be dispatching designers, analysts, and project managers to ensure a smooth mobile app development experience.
IS&T
is a reputable mobile app developer applying the best industry standards, practices, technologies, and processes to ensure Android mobile app development services that can generate the most ROI for our clients. This makes us a trusted and preferred app development company in Houston.

Our Mobile App Developers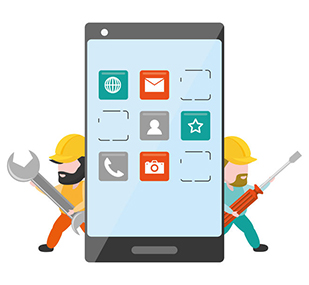 Our qualified mobile app development team is capable of making efficient and smart decisions when you need solutions that can address your Android mobile application development needs. We have the tools and capabilities to create any app, whether you need something fun or for productivity. Rest assured—the results of your Android app development will provide user-friendly and engaging experiences to your end-users.
IS&T can develop a native mobile app for Android and other popular mobile platforms in Houston. We can handle cross-platform enterprise mobile app development using known technologies and effectively execute them. We are able to stand out from any other app development company because of our experience and ability in custom Android mobile app development, and make sure that it is done according to the unique requirements of every client.
Houston App Development that meets and exceeds your every requirement!
Our mobile app development company does not stop when you get and start using it. We continue working with you to provide on-going support, which you can rely on any time you encounter issues with the Android mobile app. This way, you do not have to worry about finding another mobile app development team to address future issues. We will also work with you to update the mobile app so it can evolve and accommodate the changing needs of your growing business.