IS&T has over twenty years in the Houston IT market placing contract and temporary IT Staff for businesses of all sizes.

Many businesses are, at one point or another, faced with the need for temporary workers. Temporary workers can offer excellent solutions for businesses in various situations. Even if your business can afford to hire part-time or full-time permanent workers, not all businesses need to invest in long-term employees to achieve their goals. That's where temporary staffing comes in. Having temporary or contract workers can be helpful for businesses that need extra hands on deck, are in the midst of a transition period, or have a large project looming. Temporary workers help to fill in gaps for growing businesses and established businesses alike whenever the need for more assistance presents itself.

Regardless of which reason you might have for seeking temporary or contract staffing solutions, it's important to find your temporary team members with a reliable, experienced, and locally connected staffing firm. This is because the recruitment process for temporary workers can be difficult, especially during high demand times of year.

IS&T has been helping businesses throughout the greater Houston area and beyond fulfill their temporary and contract staffing needs for over twenty years. Our recruitment experts are here to guide your business through the temporary hiring process – without hassle and as seamlessly as possible – so your organization can succeed.



Why Choose Temporary or Contract Staffing?
Temporary staffing is a significant part of many businesses. Whether your business needs temporary employees, freelancers, contract workers, one-time consultants, seasonal staff, or other non-permanent workers, temporary or contract staffing fits the bill. Many businesses choose to employ temporary and contract workers for the following reasons:

•    Cost-Effective – Temp staffing offers a cost-effective solution to businesses who need to increase their staff. In addition, replacing employees for any reason (personal/family leave, maternity leave, vacation, etc.) is much more affordable when done through temporary staffing.
•    Flexible – Regardless of why your business needs a temporary/contract employee, this method of recruitment is flexible, allowing you to change or alter your needs at any time.
•    Temp-to-hire – Temporary employment allows both employees and employers the chance to work together for a brief period of time to see if they are a good fit before committing to work together permanently.
•    Expanded Business Capacity – Whether you need to provide additional services and support to customers during a high-volume time of year or you are faced with a task that requires a specific skillset that is outside of your current staff's abilities, temporary or contract employees can expand your business's capacity to meet demand.

All of these benefits come together to offer a great staffing solution to businesses of all sizes throughout all markets. The key to success when it comes to temp staffing is to partner with an experienced staffing firm. IS&T has facilitated top talent for temporary and contract positions for more than twenty years, making our recruiters an excellent choice for businesses throughout Houston.

Types of Temporary Staffing
Like permanent staffing, not all temporary staffing needs are the same. There are generally three different types of positions that fit this classification. They include:

•    Temporary Workers – Usually located via an agency, temporary workers are non-permanent staff members who are screened to ensure they're the perfect fit for your business. Often temporary employees are considered employees by the government, so they will be payrolled employees of either the business they work for or the agency who recruited them.
•    Contract Workers – Workers who are in business for themselves but offer their services to other businesses. Examples include independent contractors, freelancers, and consultants. Contract workers are often self-employed and not on company payroll.
•    Interns – Students looking to supplement their education with real-life experience.

No matter what type of temporary staffing you're looking for, working with a reputable and connected staffing firm like IS&T will increase your chance of landing a great hire.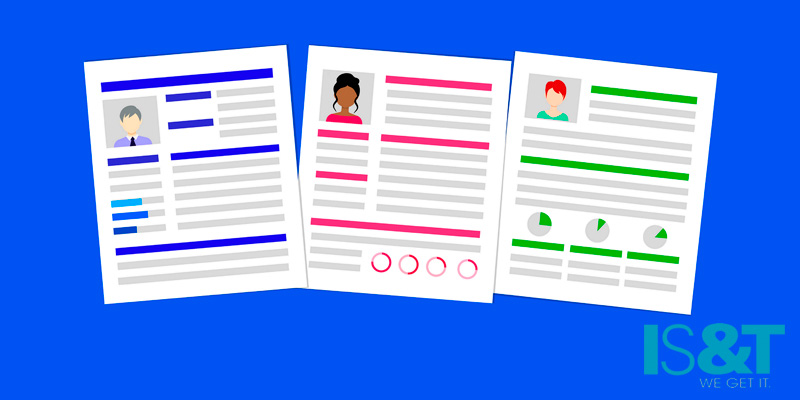 Why Use a Staffing Firm?
Although businesses can search for temporary or contract workers on their own, the process becomes significantly easier when partnering with an experienced staffing firm. This is because staffing experts are connected to the local market and can more easily find skilled talent to meet specific needs. In addition, staffing consultants are well-versed in all the legal and financial issues surrounding temporary workers, including taxes, liability insurance, licensing, and the like. Working with a staffing firm also usually results in more flexibility, because temps can be easily replaced if they are not a good fit, contracts can be extended quickly and easily, and temp-to-hire arrangements can be negotiated.

When you partner with a staffing firm like IS&T you gain access to our vast pool of skilled talent, eliminate the stress and hassle associated with recruiting employees on your own, and gain the added peace of mind of having a reputable recruiter on your side.

IS&T's Approach to Temporary and Contract Staffing
For your business to succeed, partnering with the right people is key. IS&T knows how essential finding the right temporary and contract employees can be to providing the best service to your clients and customers. We make our mission when working with our clients to first understand each business's unique needs. Unlike many other staffing firms, we don't apply a one-size-fits-all approach to recruitment. Every temporary or contract staffing client we have is delivered a custom staffing solution based on circumstances, expectations, and requirements that are unique to their business.  

We create a meaningful relationship with our clients, get to know their business model and culture, and work to truly understand the specific needs for each job opening. After intentionally and meaningfully getting to know your business, our staffing experts then apply our more than twenty years of contract and temporary staffing experience to find the ideal candidates for your needs.

We specialize in:
•    Contract
•    Temporary
•    Contract-to-Hire

All of IS&T's contract and temporary placements are hired as W-2'd employee. This means they're covered by Information Technology Professional Liabilities & Workman's Comp insurance policies, limiting liability for both the temporary employees and the companies who hire them.

IS&T – Houston's Best Staffing Agency for Temporary or Contract Staffing Solutions
Our customized approach to temporary and contract staffing has been honed over more than twenty years working with businesses of all sizes in the Houston market. Our staffing consultants have extensive experience placing temporary, temp-to-hire, and contract employees in IT positions of all kinds. They ensure that your staffing needs are met from our first staffing strategy meeting to onboarding your new employee. We guarantee employees who are skilled, screened, and ready to help your business succeed. No matter your staffing needs, let us show you how easy recruiting the right talent can be.

Contact us today to get started and see how IS&T's temporary and contract staffing expertise can transform your business.