Businesses throughout all industries saw a huge uptick in the need for remote work throughout 2020. The desire for telecommuting, or working from home or other remote location, is not simply a trend. According to Forbes, surveys show that 74% of professionals expect remote work to become standard and that operating as fully remote is one of the best ways to lure top talent. In addition to remote work being a draw for employees, businesses also benefit from operating remotely. Business owners who offer telecommuting are likely to experience lowered overhead costs and higher productivity from their remote employees.
With the increased demand for remote work, small and medium sized businesses are under pressure to implement remote working solutions. Is your business ready to go fully remote? The process of shifting to fully remote or a hybrid work environment requires certain steps to set up secure remote access and create a functional, efficient virtual experience for your business.
Here, we'll go over the five most important steps of setting up a remote office and how a professional IT company like IS&T can make the process quick and seamless.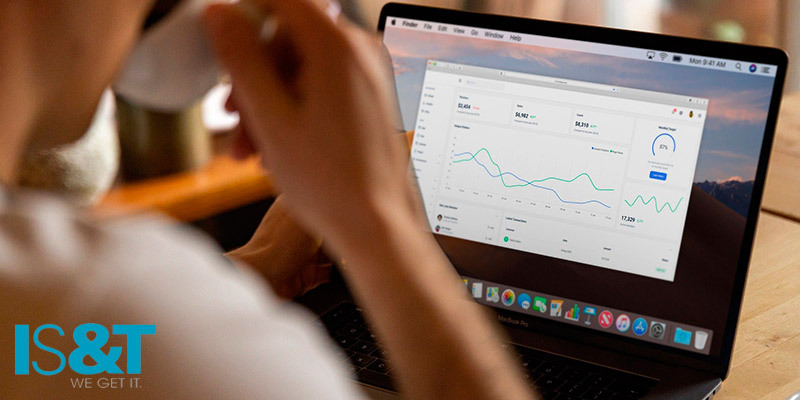 Steps to Set Up a Remote Office
When it comes to setting up a remote working solution, there is no one method that is ideal for all businesses. Like any technology solution, the tools and applications needed, and steps required will vary from business to business. Implementing a work from home system for your business should be managed by an IT consulting team able to complete the following steps:
Perform Evaluation – Arguably the most important step when it comes to setting up a remote work solution, performing a detailed evaluation before presenting a proposed solution helps your IT team understand your business, daily operations, and needs regarding telecommuting. The professionals will determine things such as how many employees you have, what systems you currently use in-office, what your network setup is like, and what security concerns need to be addressed.
Implement Solutions – Using the information provided in the evaluation alongside a first-hand overview of your network, workstations, and applications, your IT provider will present recommended options to you and begin the process of implementing your chosen solution. They will assist in setting up remote access, creating a secure remote working environment, and migrating files, systems, and applications to cloud, if needed. With the assistance of trained professionals, your switch to remote work will be as seamless as possible.
Train Staff – Providing solutions are only the first step in setting up a remote working environment. Once you've determined the right solution for your business and the beginning stages of implementation begin, your staff will need to be trained on how to operate your new remote access solutions. In addition, your remote staff should be trained on telecommuting best practices to avoid potential security issues. Finding a provider who can guide you through this process is necessary to maximize productivity and limit potential setbacks.
Provide Support – Remote access solutions need ongoing support, as they are essential pieces of your business's infrastructure. Experienced IT providers should have ongoing support options such as help desks, 24/7 monitoring, and on-call contacts to assist you even after the solution has been deployed.
Maintain Security and Productivity – As with any business IT solution, setting up secure work from home remote access is not as easy as setting it and forgetting it. As an essential part of your business's daily operations, you'll need to ensure your online working environment is routinely scanned for cybersecurity breaches, monitored for efficiency, and updated as needed when new technologies are introduced. Working with a skilled team of IT professionals is the best way to ensure your remote working solution is maintained properly and operating at peak performance at all times.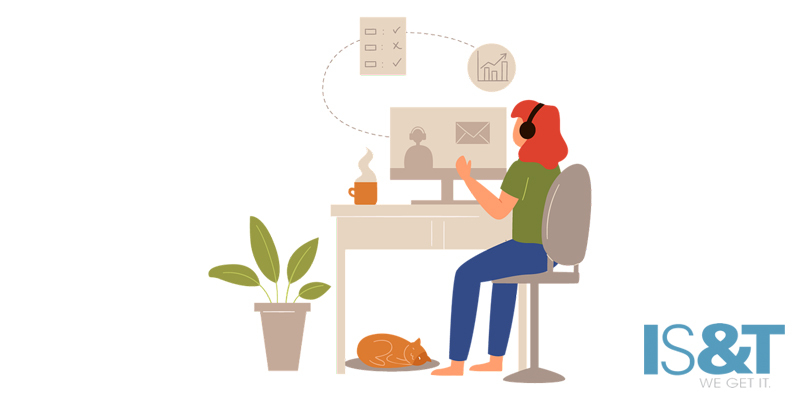 IS&T – Remote Access Experts
The steps listed above are essential for any business looking to go partially or fully remote. It's important for businesses to take these steps with the help of an experienced team of IT professionals because they can help recommend and implement technologies for your business's specific needs. Having a professional aid in the setup and configuration of your remote access solution helps you avoid potentially expensive errors and eliminates the possibility of frustrating setbacks.
At IS&T, we've spent over 20 years assisting businesses throughout the greater Houston area and beyond adapt to changing technology, including helping many businesses go remote when needed. Our team of IT professionals takes a custom approach to each client, ensuring every remote access solution is tailored to each business's specific needs. Contact us today to see how easy going remote can be.