Recently, more and more businesses are shifting to operating remotely, or working from areas other than a traditional office setting, such as the home. Options in terms of remote work, often referred to as telecommuting, include operating as a fully remote business, connecting with customers virtually, or offering hybrid working environments for employees. Although this transition cuts down on overhead costs and offers more flexibility for customers, business owners, and employees, there are a variety of unique challenges surrounding the setup of a remote business.
As businesses adapt to the new landscape of working environments, it's important to have the right kind of support and security when setting up remote access for work. For more than twenty years IS&T has been assisting businesses throughout the greater Houston area and beyond manage their IT needs. Our team of experienced IT professionals can help any size organization setup a remote business plan that is right for their needs. We'll guide you through the process, explain the various options you have for remote working solution, and ensure that your remote access plan for work meets the necessary security standards to keep your business data and systems secure.

Remote Working Options
There are many avenues a business can take when it comes to the setup of a remote business. The technologies, features, and benefits may be different for each method, meaning it's best to work with an experienced
IT solutions provider
to determine what's right for your business. When it comes to establishing a remote work setup, we can help guide you through your options and assist in making an informed decision. Below are some of the top options for setting up a remote workplace.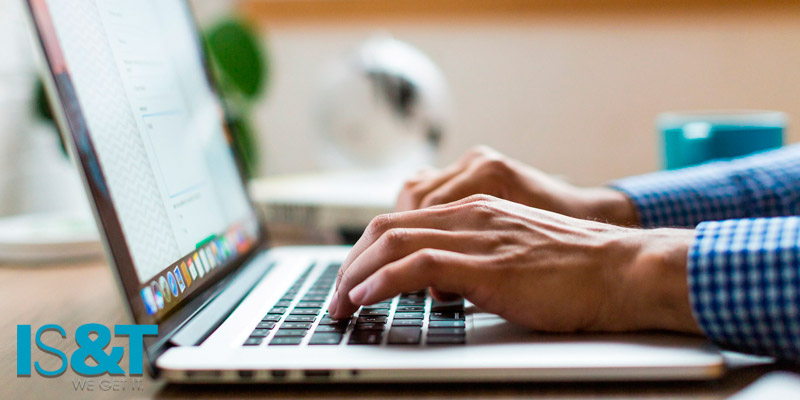 What Is & Why Use Virtual Private Network (VPN)
A remote access virtual private network, or VPN, enables users to securely access their shared network resources from anywhere. With a VPN, your employees can use applications and access data via an encrypted, private, and secure environment. This is a great option for remote work for businesses looking to have a hybrid work environment.
There are many advantages to using a VPN, not the least of which is security. VPNs are not in themselves vulnerable to direct cybersecurity attacks. This means that any activity or data transferred within the VPN is extremely secure. The main security concerns surrounding VPNs lie with the end-users and how they access the system. The computers that access the VPN should be protected against viruses and malware and employees should disconnect when they're not actively working. In addition, general cybersecurity measures should be taken.
One of the reasons many businesses do not choose to use VPNs is because they are more difficult to setup than other methods of remote work and have potential cybersecurity risks if the right protocols are not followed. However, with the support of an experienced IT provider like IS&T, reaping the benefits of a VPN can be simple and easy. IS&T can help your business set up a VPN and provide employees guidance on cybersecurity best practices, such as proper software to use, how to setup a secure password, and how to abide by security policies. We'll also configure your VPN to maximize security. When the right steps are taken during setup, remote business is made easy with a VPN.

Remote Desktop Access
Remote desktop software easily allows users to control any computer remotely. This technology easily allows users to establish a connection to a computer and perform a variety of actions the same way they would as if they were sitting at that computer. This is a very popular form of managing remote working environments for businesses of all sizes. Organizations like remote desktop access because it is easily scalable, provides a seamless user experience, and are easy to setup. Remote desktop access is most ideal for businesses that occasionally need to offer telecommuting but always have a physical office from which workspaces are used.
There are multiple ways to enable remote desktop access, including using remote access software, via direct remote access, or using enterprise remote desktop. Like a VPN, it's important that proper security measures are taken when using any kind of remote access. IS&T can help your business determine which remote access solution is best for your organization and can ensure all necessary safety measures are taken so that business systems, workstations, and data are safe.  


Cloud Network For Working Fully Remote
One of the most popular ways of setting up a remote work solution for businesses of all sizes is setting up a cloud network. Cloud network solutions are application-based, placing all of a business's networking resources onto remote servers where they can be easily accessed from anywhere in real time. This method of remote work is particularly effective for offices that choose to eliminate office spaces altogether and work fully remote. However, it's also good for businesses that want increased communication and collaboration between users who will work in a hybrid telecommute/in-office environment. There are many options available when it comes to cloud network solutions. IS&T can help your business choose the right provider and configure the application for the best performance and highest security.

Microsoft Office 365
One of the most popular and effective cloud applications is
Microsoft Office 365
. Trusted by millions of businesses and a preferred choice by many IT experts, this solution offers a fully streamlined user experience for remote work while also maintaining a high level of protection and security. IS&T has managed many
Microsoft Office 365 migrations
for clients large and small. Our experts can help ensure a seamless transition and optimize the configuration for peak performance and security.

Choosing the Right Remote Access Solution
As with any impactful business decision, determining how you'll implement remote access for your business requires consideration and help from experienced professionals. IS&T can help you determine the right remote access solution for you by helping you understand and weigh important factors, such as:
•    Security – One of the prime concerns regarding any style of remote access is security. Different remote working solutions require different considerations regarding security. Working with a professional team to setup your remote access ensures maximum security.
•    User Experience – How easy the solution is to use and what kind of experience users have when they access the remote system are extremely important considerations. Each style of remote access differs just as each business's needs differ. A professional
IT provider
can help determine what's right for your organization.
•    Setup Process – Not all remote solutions are as easy to implement as others. Experienced IT professionals can help you understand and manage the setup process.
•    Cost – Based on your business's budget, remote access experts can recommend the best option that strikes a balance between cost and efficacy.


IS&T – Houston's Remote Access Experts
For over twenty years, IS&T has helped businesses adapt to the ever-changing landscape of technology. We've assisted many clients in implementing remote access solutions. Whether VPN, remote desktop, or cloud network, our team of IT professionals is there to help guide your business through the process of choosing, setting up, and thriving within the remote working solution that's right for you. We provided unparalleled experience and insight to ensure your remote working solutions are effective, easy to use, and secure.
Contact us
today to begin the process of establishing a remote access solution and see how flexible working solutions can help your business succeed.